UVC 1000 Dosimeters
UVC 1000 Dosimeters help visibly demonstrate the success of your UV-C decontamination systems. #SeeYourSuccess
To request a quote, click here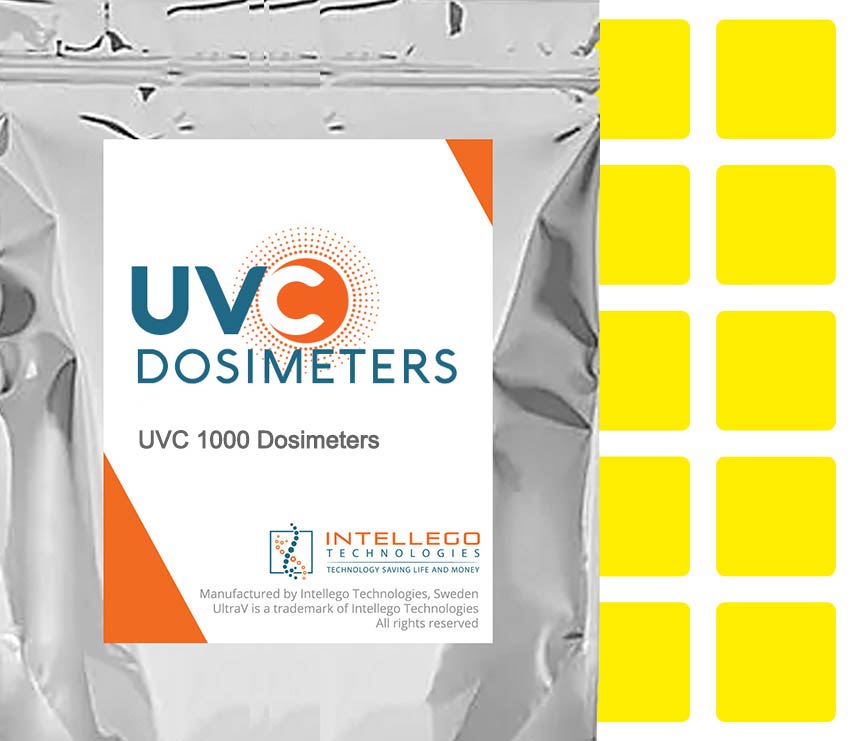 UVC 1000 Dosimeter available in:
1″ Adhesive Squares

UVC 1000 Dosimeters are designed to visually indicate an accumulated dose of UV-C up to 1,000 mJ/cm² , which is in the range recommended for decontamination of N95 masks.
 Using a patented, UV-sensitive material, our UVC 1000 Dosimeters react to UV-C radiation at 254 nm and change color to indicate accumulated doses ranging from 500 to 1,000 mJ/cm².
According to a summary of research provided by the Centers for Disease Control on decontamination of N95 Masks, UVC delivered at a dose of ≥500 mJ/cm² has been found to achieve 99.9% antimicrobial efficacy of pathogens similar to SARS-CoV-2: Influenza A, Middle East Respiratory Syndrome (MERS-CoV), Sudden Acute Respiratory Syndrome (SARS-CoV), H1N1, and MS2 bacteriophage. Click here to read the report.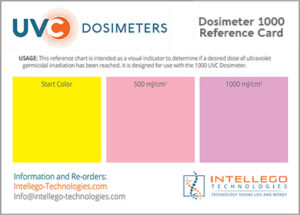 Reference Cards show the approximate color range associated with a dose of UVGI at 500 and 1,000 mJ/cm². Click here to download a printable version.

Note: Product packaging and dosimeter card designs may vary by region and distribution partnerships.
Specifically designed for use in close-range UV-C cabinets and conveyance devices for re-processing N95 masks
Easy-to-use 1" adhesive indicators are placed on or adjacent to objects that will be exposed to UVGI
Patented photochromatic ink changes from the starting yellow to deep pink to indicate an accumulated dose UV-C irradiation on surfaces up to 1,000 mJ/cm²
The indicators can be used during every decontamination cycle, providing additional quality assurance for sterile processing technicians and health care staff
Leading UV-C device manufacturers use and recommend UVC 1000 Dosimeters to their customers
UVC 1000 Dosimeters are designed and manufactured in Sweden, and have been validated by RISE Research Institutes of Sweden AB