Intellego Technologies announces new international team members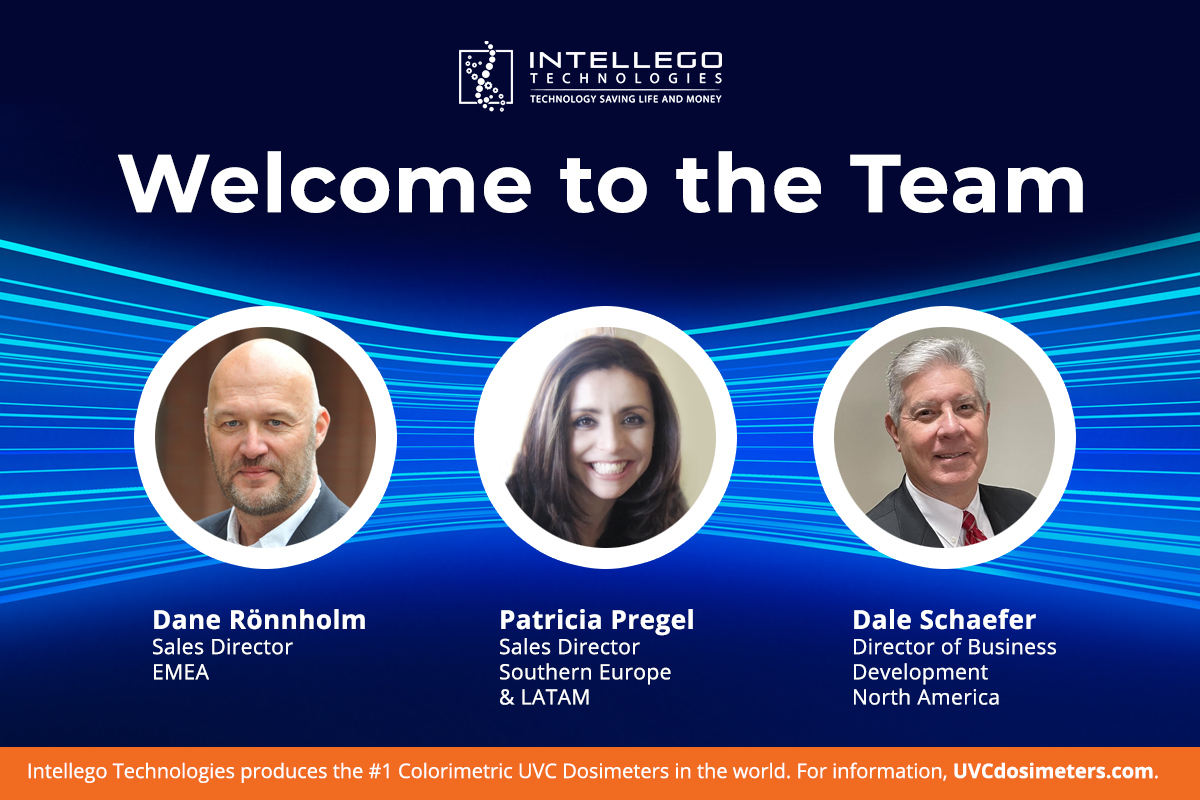 STOCKHOLM — February 5, 2021 — Intellego Technologies, producer of the world's #1 colorimetric UVC Dosimeters, today announced the addition of several new team members.
Dane Rönnholm of Denmark has been named Sales Director for the EMEA region.
Dane joins the Intellego team from Pharma Life Science/UVD Robots, where he served as Global Sales Manager and was responsible for the sales and marketing of autonomous disinfection robots to global corporate accounts. Dane will oversee Intellego's sales strategy and efforts in Northern Europe and the Middle East. He holds a degree from IHM Business School.
Dane can be emailed at  dane.ronnholm@intellego-technologies.com 
Patricia Pregel has been named Sales Director for Southern Europe and Latin America.
Patricia joins the Intellego Technologies team from UVD Robots, where she served as Sales Manager for Southern Europe. A native of Colombia and currently residing in Denmark, Patricia will oversee the Intellego sales strategy for Southern Europe while helping expand Intellego's sales reach in LATAM and Africa. Patricia holds multiple degrees from Zealand Business Academy of Denmark.
Patricia can be emailed at patricia.pregel@intellego-technologies.com
Dale Schaefer has been named Director of Business Development for North America.
Dale will oversee sales efforts throughout the United States and Canada. Dale joins Intellego from Avadim Health where he served as Sales Manager – Central United States. His experience spans more than 40 years in medical devices and Infection Control for the healthcare industry, with a heavy emphasis on sales, marketing and new product introduction. Dale holds a business degree from the Carl H. Lindner College of Business, University of Cincinnati.
Dale can be emailed at dale.schaefer@intellego-technologies.com
"Intellego Technologies is proud to welcome these exceptional sales professionals to our team," said Claes Lindahl, founder and CEO of Intellego Technologies. "As our family grows, so too does our ability to demonstrate the safety, efficacy and efficiency of UV-C disinfection systems and processes in use around the world."
About Intellego Technologies
Intellego is a Swedish research and development company within the biotechnology field. Intellego produces a wide variety of colorimetric dosimeters that provide visible evidence of invisible ultraviolet irradiation. Through its patented technology, the company's mission is to design and provide world-class solutions that support safer environments and healthier outcomes with ultraviolet solutions.
For more information, UVCdosimeters.com or Intellego-Technologies.com