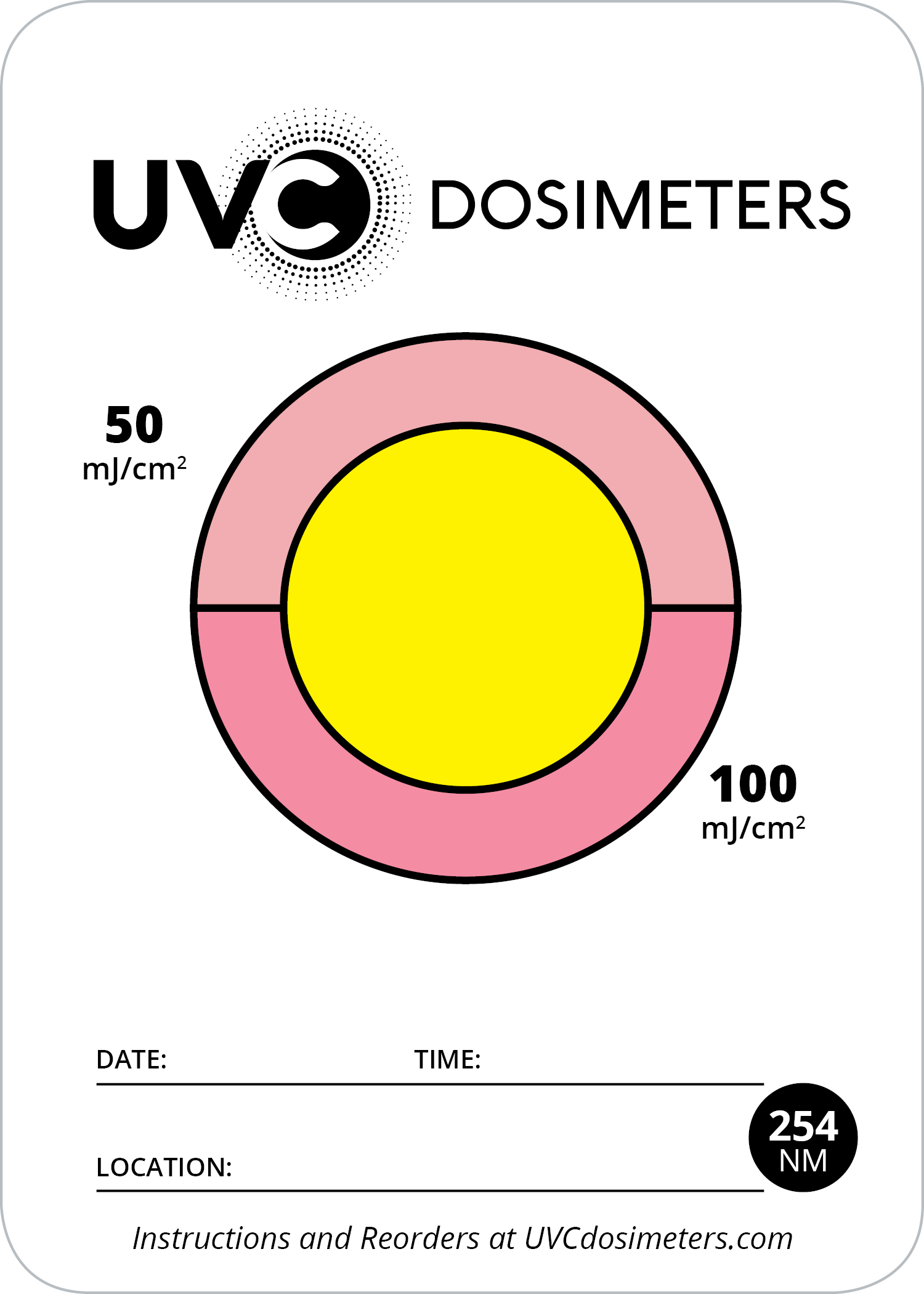 Note: Product packaging and dosimeter card designs may vary by region and distribution partnerships.
For 254 Devices
254 DUO Card 
Our DUO Cards visually indicate 50 and 100 mJ/cm² of UV-C which is demonstrated to achieve
 a 3-log reduction of MRSA and C-diff spores.
Using a patented, UV-sensitive material, UVC Dosimeters react to UV-C at 254 nm. These color-changing indicators are ideal for use with UV-C disinfection systems and help you validate your devices, procedures and visibly see if target surfaces have received enough germicidal irradiation to kill  harmful bacteria, viruses and spores.
Backed by peer-reviewed research available here, UVC Dosimeters provide a simple way to monitor and assess the delivery of UV-C light by decontamination devices and are correlated with a 3-log reduction of MRSA and C Diff spores.
nil
Product Details
2.5″ x 3.5″ cards with adhesive backing
Designed for use with UV-C 254 nm devices
Validated by RISE: Research Institute of Sweden
Color-indicates 50 and 100 mJ/cm²
Single use only. Do not reuse.
Packaged 25 units per bag
MOQ 200 units (8 bags)
3-year shelf life
Store at room temperature in original packaging and away from direct sunlight.
Private label and customization available for orders of 5,000+
Instructions for Use
To use, peel off the protective strip to expose the adhesive and place the dosimeter on or adjacent to any equipment or surface that will be disinfected with ultraviolet germicidal irradiation. Make sure the yellow indicator area faces toward the UV-C light source.
After the disinfection cycle is complete, confirm the color change on the cards or dots immediately or within 24 hours for best results.
UVC Dosimeters are intended for one-use-only and should not be reused. Store at room temperature and away from direct sunlight.
Resources
PLEASE NOTE: This product is designed to work with 254 nm UV-C devices.
Patented photochromatic ink changes color to indicate the level of UV-C irradiation on surfaces (254 nm)
Visibly demonstrates the accumulated dose of UV-C so you can confirm that a surface has received an optimal level of germicidal irradiation. 
Validated by leading researchers in the U.S., U.K. and Sweden and trusted by UV-C manufacturers throughout the world. UVC Dosimeter by Intellego have been used in multiple US research studies to confirm UV-C effectiveness.
Recommended for use with UV-C disinfection systems in healthcare facilities, physician and dental practices, commercial spaces and more
Great for in-servicing, staff training, validating UV-C lamp performance, and as a simple reporting tool for Infection Control and Environmental Services