Intellego Technologies Unveils New UVC LED Dosimeter Cards for 260-280 Nanometer Wavelengths
STOCKHOLM, February 8, 2021 – Intellego Technologies announced today that the company will immediately commence sales of a new UVC LED dosimeter card. The UVC LED Dosimeter bolsters Intellego's portfolio of ultraviolet dose indicator cards which have become the world's #1 colorimetric dosimeter product. The color-changing dose indicator cards enable UVC-LED manufacturers and end-users to have tangible, visible evidence of invisible germicidal irradiation to support successful disinfection processes.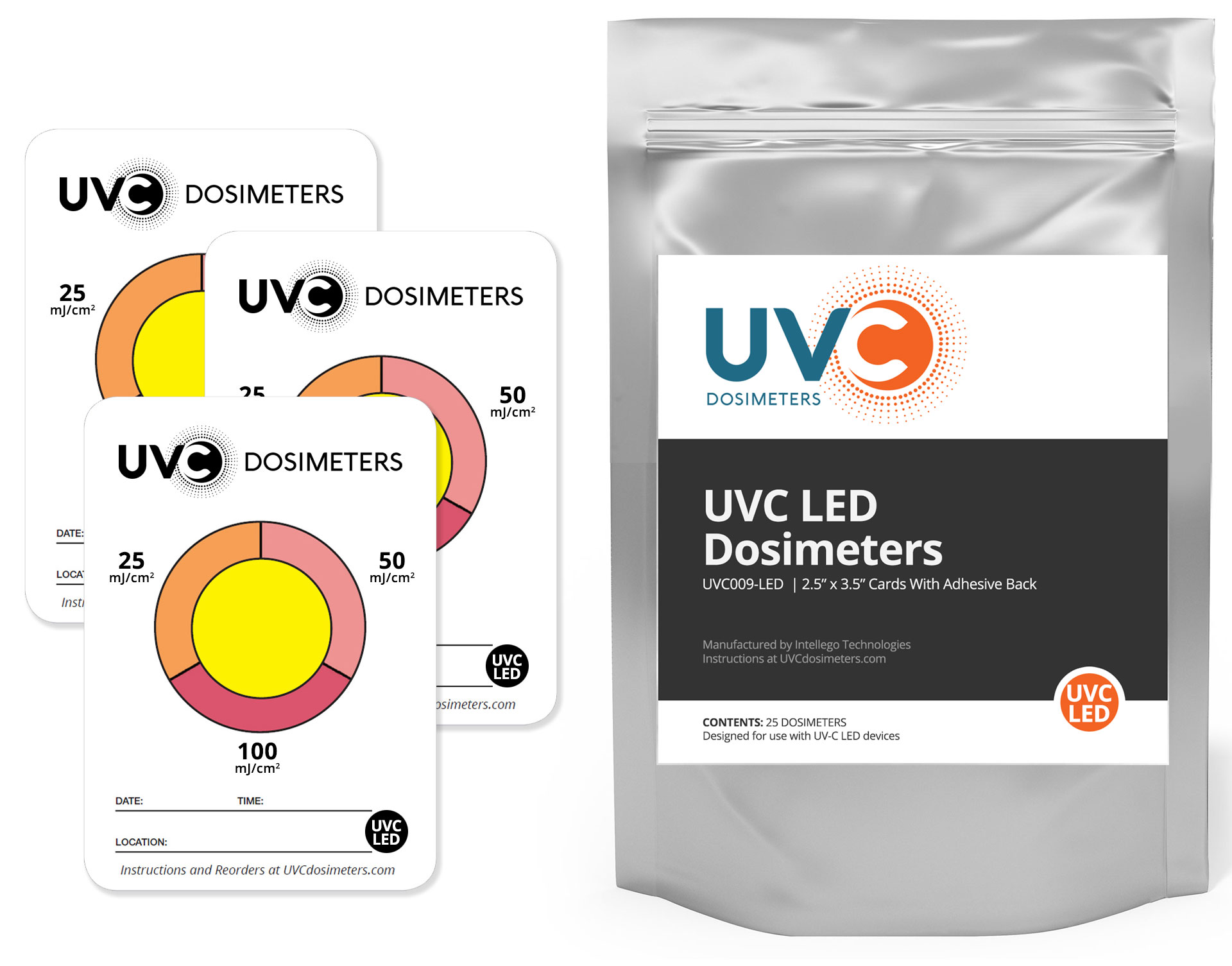 According to a research analysis report by Yole Développement, the UV-LED market is expected to more than double, from $144 million in 2019 to $308 million in 2020, before mushrooming to $2.5 billion by 2025. The demand for UVC LED devices has seen explosive growth due to the COVID pandemic and the need for non-chemical germicidal solutions for surface disinfection. Intellego's UVC LED Dosimeter is a vital component for ultraviolet disinfection systems and is a best-practice tool for 3rd party quality assurance to support the safe operation, efficacy and efficient application of UV-C LED devices.
Since its founding in 2011, Intellego has become the leading manufacturer of UVC Dosimeters for devices operating at 254 nanometers (nm). Like Intellego's existing UVC 100 series for devices operating at 254 nm, the new UVC LED dosimeter will color-indicate the accumulated dose of 25, 50 and 100 mJ/cm² delivered from UV-C LED devices operating in the 260-280 nm range. For many end-users utilizing UV-C to inactivate SARS-CoV-2 with a dose of 22 mJ/cm², having the ability to see if they've reached or exceed the dose with color-changing dosimeters is invaluable.
"We are proud to bring this important product to market," said Intellego Technologies CEO Claes Lindahl. "As UV-C disinfection systems continue to gain popularity in public and commercial spaces, the ability to provide physical evidence of the dose delivered by these devices is critical to success of ultraviolet germicidal irradiation."
Originally focused on healthcare environments such as hospitals, UV-C is now commonly used to disinfect numerous environments, from schools and airports to grocery stores and casinos.
Intellego's new UVC LED Dosimeters will allow an entirely new class of UV-C disinfection devices to take advantage of Intellego's patented colorimetric technology, said Lindahl.
Product details and specifications can be found at UVCdosimeters.com.
About Intellego Technologies
Intellego is a Swedish research and development company within the biotechnology field. Intellego produces a wide variety of colorimetric dosimeters that provide visible evidence of invisible ultraviolet irradiation. Through its patented technology, the company's mission is to design and provide world-class solutions that support safer environments and healthier outcomes with ultraviolet solutions.
For more information, UVCdosimeters.com or Intellego-Technologies.com