Quick Check UVC Dosimeters

Make the invisible process of UV disinfection "VISIBLE" with color-changing indicators

The Quick Check dosimeter helps you SEE if your UV-C disinfection device has delivered a sufficient dose of energy to kill germs. Ideal for use in hotels, gyms, restaurants, retail stores, commercial buildings, offices, schools or anywhere UV-C disinfection is utilized.

The Quick Check provides visible evidence of UV-C irradiation when used with devices producing 254 nm, the optimal germicidal wavelength. To use, simply place the Quick Check dosimeters on surfaces around a room or alongside any objects/equipment that will be disinfected with UV-C. When exposed to UV-C, the Quick Check will change color based on the dose of germicidal irradiation that is delivered. At 6 mJ/cm², a check mark will appear. And, with increased exposure, the Quick Check will continue to change color to indicate 15 and 25 mJ/cm².
According to a recent study by Signify and Boston University, "The team applied a [UV-C] dose of 5 mJ/cm², resulting in a reduction of the SARS-CoV-2 virus of 99% in 6 seconds. Based on the data, it was determined that a dose of 22 mJ/cm² will result in a reduction of 99.9999% in 25 seconds." 
If you've invested in UV-C towers, fixed ceiling units, handheld devices or cabinets, Quick Check dosimeters let you:

See if you've delivered a target dose of UVGI

Know if your UV-C equipment is working properly
Show your staff and customers that you're providing a safer environment

Quick Check UVC Dosimeters
2″ x 2″ card with a

dhesive backing
Specifically reacts to UV-C 254 nm
25 units per bag / MOQ 200 units
Provides a visual indication of germicidal UV-C irradiation doses of 6, 15 and 25 mJ/cm

²

Helps ensure the effective and optimal use of UV-C devices
Easy-to-use validation tool for offices, schools, gyms, restaurants, hotels, service vehicles (ambulance, police, fire), ride-share vehicles, delivery trucks, airplanes and more
Great for use with all UV-C equipment including towers, fixed ceiling units, upper-air units, cabinets and hand-held devices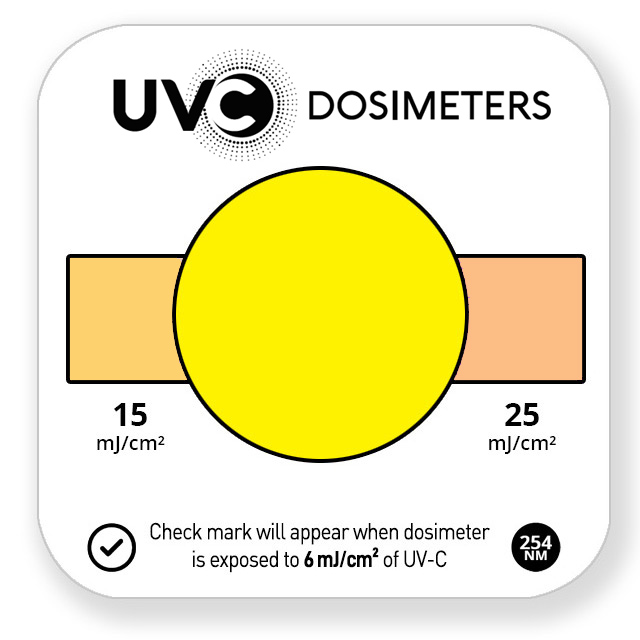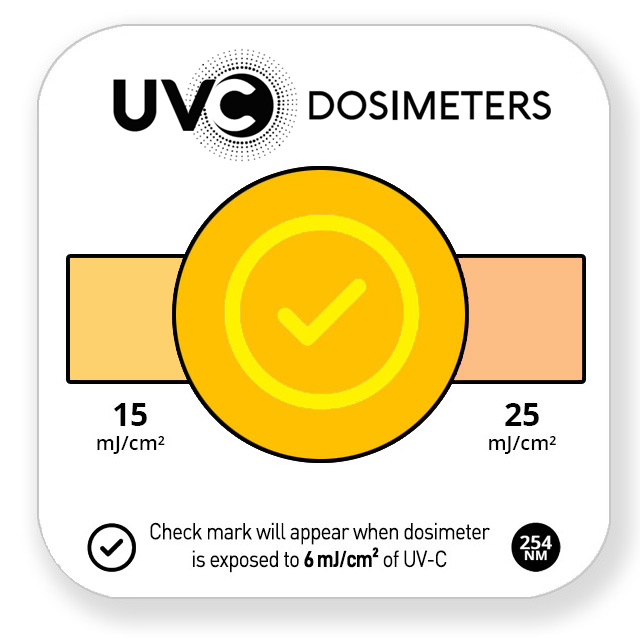 UVC006-CRD
2″ x 2" square card with adhesive backing
Packaged 25 units per bag / MOQ 200 units
Do not expose to direct sunlight or use outdoors
This product is intended for use with UV-C devices emitting 254 nm
Ideal for use in Offices, Hotels, Restaurants, Automotive, Aircraft, Cruise Ships, Emergency Vehicles, Public Transportation, Theaters, Sports Venues, Convention Centers and more
Designed for single-use only
To use, place the dosimeter on or adjacent to any object or surface that will be exposed to germicidal UV irradiation
After disinfection cycle is complete, retrieve the exposed dosimeter to confirm desired UV-C dose was delivered. For best results, take exposure readings immediately.
Discard after use. Do not reuse.
Private labeling available. MOQ 10,000 units.