UVC LED Dosimeters (260-280 nm)
UVC LED Dosimeters help visibly demonstrate the success of your UV-C disinfection systems. #SeeYourSuccess
To request a quote, click here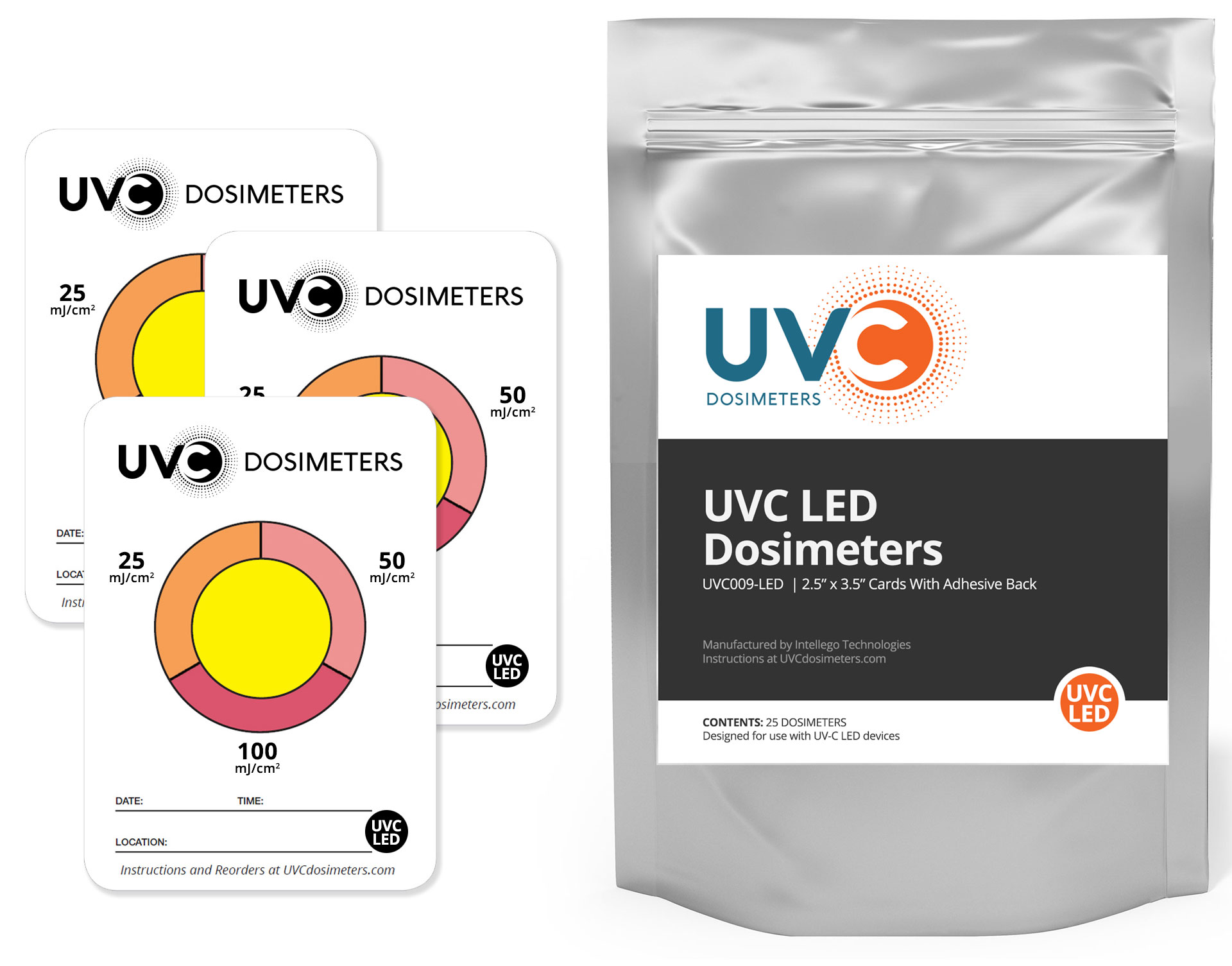 Introducing the UVC LED Dosimeter card from Intellego Technologies

2.5″ x 3.5″ cards with adhesive backing
Designed for use with UV-C LED devices
Validated by Research Institute of Sweden
Color-indicates 25, 50 and 100 mJ/cm²
Single use only. Do not reuse.
25 units per bag
MOQ 500 units
Private label and customization available for orders of 10,000+
UVC LED Dosimeters let you:

See if you've delivered a target dose of UVGI

Know if your UV-C equipment is working properly
Show your staff and customers that you're providing a safer environment
PLEASE NOTE: This product can be used with UV-C LED devices producing irradiation in the range of 260 nm – 280 nm.
Note: Product packaging and dosimeter card designs may vary by region and distribution partnerships.

Patented photochromatic ink changes color to indicate the level of UV-C irradiation achieved on surfaces
Visibly demonstrates the accumulated dose of UV-C so you can confirm that a surface has received an optimal level of germicidal irradiation. A recent study indicates that SARS-CoV-2 can be inactivated by a dose of 22 mJ/cm². Click to read.
Recommended for use with UV-C disinfection systems utilizing UVC LED wavelengths
Great for in-servicing, staff training, validating UV-C lamp performance, and determining optimal lamp run-times for efficiency.
Instructions for use

To use, peel off the protective strip to expose the adhesive and place the UVC LED Dosimeter on or adjacent to any equipment or surface that will be disinfected with ultraviolet germicidal irradiation. Make sure the yellow indicator area faces toward the UV-C light source. After the UV-C disinfection cycle is complete, confirm the color change on the cards or dots immediately after use. UVC LED Dosimeters are intended for one-use only and should not be reused.
UVC LED Dosimeter Information Sheets
Download detailed information sheets in PDF format.